Emails have come a long way since they were invented back in the late 1970's but email marketing has only kick started to become something some years back. Starting off from being just an alternative mode of communication from letter writing, has now become one of the most used platforms to talk to your customers. There are 3 times more Gmail accounts than Facebook and Twitter combined, so I'm sure you can imagine how big the platform has become. Starting an email campaign isn't the problem, starting and then making sure you run it right is where companies stumble. That being said, one thing is straight, email marketing is a very delicate thing and should be handled with care.
Let's outline the don'ts of running email marketing. We have outlined the 5 biggest email marketing mistakes you may be making right now. Understand where the problem lies and try to avoid them and you'll be sending out killer emails in no time.
The number one reason for opening an email depends on the name of the sender, if it looks like spam there are higher chances your open rate will be low. If customers feel they are being approached by an unwelcome email, then they will choose to ignore it. An email that a customer cannot interact with is a waste of an email, giving off the impression that you are making a one-way relationship where you think it's okay to bombard and spam your customers with emails. That's why it is always important to send an email from an address your customers can reply to and even better, to add phone numbers and social media links so your customers know you are always approachable.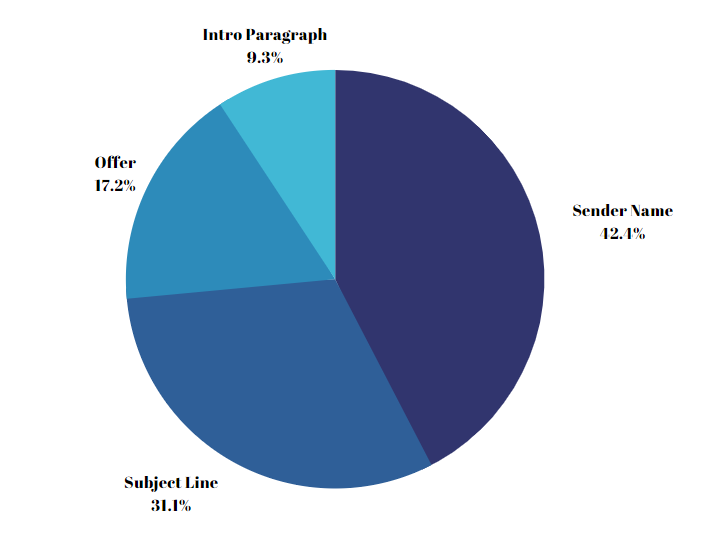 Not Optimizing Emails for Phone
In the 21st century, the usage of smartphones has increased where almost 80% of emails are opened from a mobile device. The diagram highlights the percentage of mobile usage in dark blue. One thing companies still don't understand is the way the template of an email should be optimized to be mobile friendly. Research says every 1 in 5 emails is not optimized the way it should be. This does not mean only the content counts, but the style and attractiveness of an email is just as important. There are 4 main tips you should keep in mind when writing an email. Firstly, have a short but attractive subject line. Secondly, avoid writing paragraphs and stick to 2-3 lines instead. Thirdly, only use images that are of appropriate size or do not use them at all, and finally, be sure to optimize email dimensions, average scroll time and font. To always be on the safe side of things you can send out test emails to multiple devices to see how your email looks on both mobile and desktop devices.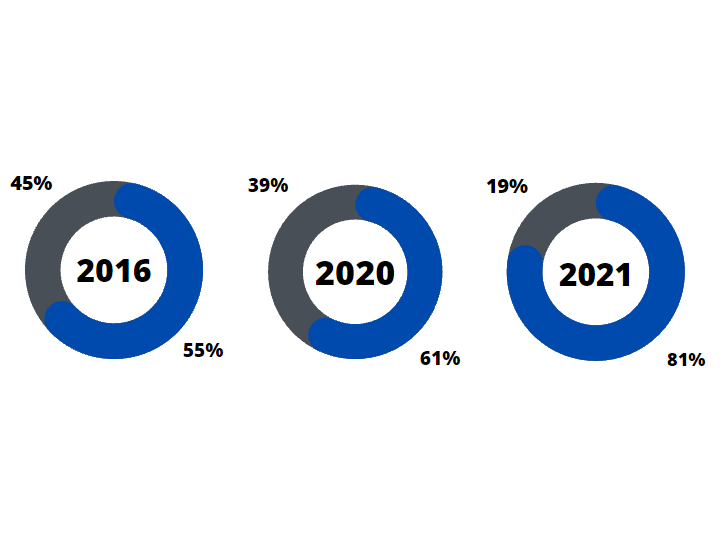 The "One Size Fits All" Approach
The first key to reach email marketing success is relevance, the one size fit approach no longer works. When it was being used, did it really ever work? It comes down to you understanding the differences in all your audiences, realizing the CEO of a company and the end user are 2 different people who should be approached differently. The language that is used in a one size fit template is considered general, giving off the look you are procrastinating and hence leaving a negative image in the mind of customers. As good as people think their emails are customized, research shows otherwise. Only 11% of email campaigns are segmented and tailored according to their audience. This is the problem everyone should focus on. Segmentation of your audience can help your business do wonders. Some factors you can take into consideration include: location, interests, browsing behavior, job title, company size, age, gender and other demographics. Customers are more interested in fulfilling their needs than any other factor, so it's important you address these needs by tailoring your emails specifically to each end user. If done, you will see the results in no time.
Poor Call-to-Action in Emails
In the previous point we discussed how the important thing for customers is getting their needs fulfilled, that's where CTA comes in. Having a beautifully written message with attractive pictures doesn't do it, your message should have a clear call-to-action. Why? Well, customers require very little thought when reading your email. Either they take action or they don't, which is simple. The average number of call-to-actions of an email marketing campaign is 3, where on one extreme you have email campaigns with zero call to actions and on the other you have campaigns with more than 10. Having a clear and relevant message in your email and on your landing page makes life easier for customers, that's why they say keeping things simple does wonders in email marketing. When it comes to how many CTA's one should use, it is pretty simple. No under doing or over doing it basically, important CTA's should be used at least twice to remind customers to click through. But be careful, using too many CTA's will confuse the customers because they will end up clicking on multiple links altogether.
Hiding The Unsubscribe Link
You cannot force a person to say they subscribed to you when they are no longer interested. If they decide to unsubscribe after 2 days or 2 months, it is their choice and it is something you should respect. There are 2 approaches you can follow: Make your unsubscribing link easy to find or hide your unsubscribing link in the folder. The first is easier for customers whereas the latter causes a lot of frustration. If you choose the second option then it isn't really a good thing, allowing customers to stop receiving emails from you should be made as easy as possible for them. Hiding the link won't mean they will suddenly want to buy your product one day, but in fact still receiving emails when they aren't interested will make them more frustrated.
To Conclude…
Email marketing might have been around for a lot of years but it will always be something other marketing channels will not be able to outdo. If you keep these 5 possible mistakes in mind while writing an email campaign, then they will no longer be considered mistakes in your list that you have to work on.
Interested in our services? Contact Us for a FREE business analysis session. We are glad to assist you!